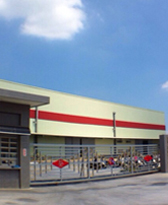 Tension Steel Industries Co., Ltd. established in 1980, and extends the manufacture factories in HsinChu and GanShan in 1990 and 2004 respectively.
Tension produces various products which include plates, hot and cold rolled coils, Carbon Steel Pipes, Carbon Steel Rectangular Pipe, API Pipes、Galvanize Pipes、Structures Pipes、Fire control Pipes and Automobiles、Bicycle Pipes. The major products of Tension are API pipes and capacity, the output is 5000 tons per month.
After several decades' efforts, Tension has been awarded ISO 9001 Certification, CNS Certification, General Motor USA supplier qualification, UL 6 RMC certification and API Certification.